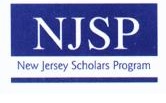 Dear Director of Guidance and Guidance Counselors:
Thank you for submitting outstanding applicants over the years and welcome to those of you who are new to The New Jersey Scholars Program (NJSP).  NJSP is an intensive academic program for 39 of the most intelligent, outgoing, and highly motivated students. The program requires students to claim residency as well as attend high school in New Jersey and complete their junior year in June of 2019.  During the five-week summer residential program, the Scholars explore a specific topic from an inter-disciplinary perspective. The tuition free program takes place on the historic Lawrenceville School campus and is funde by private contributions — there is no fee to the student other than personal expenses.
The dates of the 2019 Program are Sunday, June 23rd through Friday, July 26th and the topic for study will be:  Mind and Body: The Future of Being Human.
This year our application is online and the application process is as follows:
• No more than two nominations submitted per school – no exceptions.
• Guidance counselors are to complete, in its entirety, the online application form. Your nominees will not receive the application from NJSP unless this form is complete.
• Nominees will receive an email with instructions and a link to the application form. Guidance counselors will receive an email confirmation of delivery for each nominee. Please have nominees check their spam folder before contacting NJSP about not receiving the application email.
• Students are to complete all parts of the application including: 1) registration information, 2) summary of activities, 3) four short essays, 4) research paper sample, 5) emailing two recommendation forms.
• Applications and recommendation forms
must be received no later than Monday January 7, 2019.
• Applicants and Guidance Counselors will receive an emailing confirming receipt of application and recommendations from NJSP.
If you would like the online nomination form sent to you, please email njsp@lawrenceville.org to request one.
Every year NJSP receives close to 300 applications yet we know there are many high schools and counselors who still do not know about the program.  Please spread the word by forwarding
to all Directors of Guidanceyou may know.
We will notify applicants about their application status by late February.  Those selected as finalists, will visit The Lawrenceville School on either Friday, March 29th or Saturday, March 30. Each finalist will take part in a group interview with at least four other finalists, and complete a campus tour conducted by a past Scholar.  We will notify all finalists of the Selection Committee's decision by early April 2019. Throughout the process, we will inform guidance counselors concerning the status of their applicant(s).
Should you have any questions about the application process, please email us at
njsp@lawrenceville.org or contact our Program Administrator, Cathy Morgan, at (609) 620-6106.
Yours truly,



David Figueroa-Ortiz – Director